Online MSME Registration in India
'Quickly get your business recognize as MSME and get all required licenses online'
What is MSME Registration?
Micro, Small, and Medium Enterprises in short MSME was started in 2006 by the ministry of MSME, a branch of the Government of India. Basically, MSME are small-sized businesses defined in terms of their capitalization and investment size. In simpler words, the classification of such enterprises depends on how much they have invested in their machinery and other equipment. 
In general, to support various rural micro, small and medium enterprises. The Government of India initialized MSME registration. It is a governmental scheme enabling registration and providing various credit schemes, marketing, technology, and infrastructure facilities. 
MSME Registration in India can be done through a reliable company so-called 'Nkoolwal'. Nkoolwal  is MSME Registration Consultants in Jaipur helps your business to get registered as MSME and enable your entity to clutch benefits of MSME provided by the government of India. Get quickly enrolled for MSME company registration from jaipur in less period of time-taking, fast registration process-making and trusted parent company (always) in an easy and secure way. Contact us today…!
MSME Registration Process in India
'Apply for MSME registration Jaipur with Nkoolwal. Just follow these following process for successful MSME registration in Jaipur'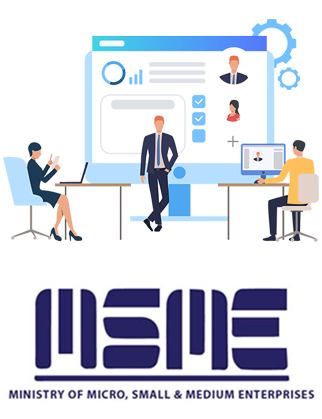 Documents required for MSME Registration
'With little document attachment your business easily enrolls for MSME. Here what is required'
What are different types of MSME Registration in India
'Entities or Business may falling MSME under given classification can obtain registration for the same'
Benefits of MSME Registration in India
'Government of India supports MSME entities with following benefits by providing various schemes'
With MSME registration, businesses would be able to get their loans on low interest rates and with much ease of functionality.
Half Rebate on TM Application
Government takes concessions at a higher rate on trademark applications from companies, partnership firms and LLP. Enrolling to MSME could avail 50% rebate on the fees.
MSME enlisted organizations appreciate insurance against postponed installment of purchasers. At the point when the purchasers have acknowledged the merchandise or administrations, they are subject to pay on schedule.
It is increasingly steady to little scope ventures that give the credit and salary contribution from different sources to help enterprises which are under battle.
MSME Registration Consultants in Jaipur
Nkoolwal is one of the most promising MSME Registration Consultants in Jaipur endulge enterprises, small traders  and organizations with MSME registration service, easy licenses availability, fast and dedicated support, and more. 
Moreover, they are also rich in other start a business services such as register private limited company, providing excessive benefits to the partner via LLP registration, partnership firm registration, proprietorship firm enrolment, etc. 
Hassel down your registration with us! Let us care about your business!
We understand your privacy and thus all your information is safe with us.
All our prices are competitive and no extra charges are taken for sure.
You are with experts, get  support from our in-house expert professionals.
We ensure your work is done in a secured way. To do so we don't make fake promises.
Hassel down your registration with us! Let us care about your business!